Wondering whether a solar array impacts your home's value? Well it turns out it does. A lot.
Two studies completed in 2015 demonstrated that solar boosts home value. Homebuyers across the United States are willing to pay more for homes with a solar array.
How much more? – $15,000!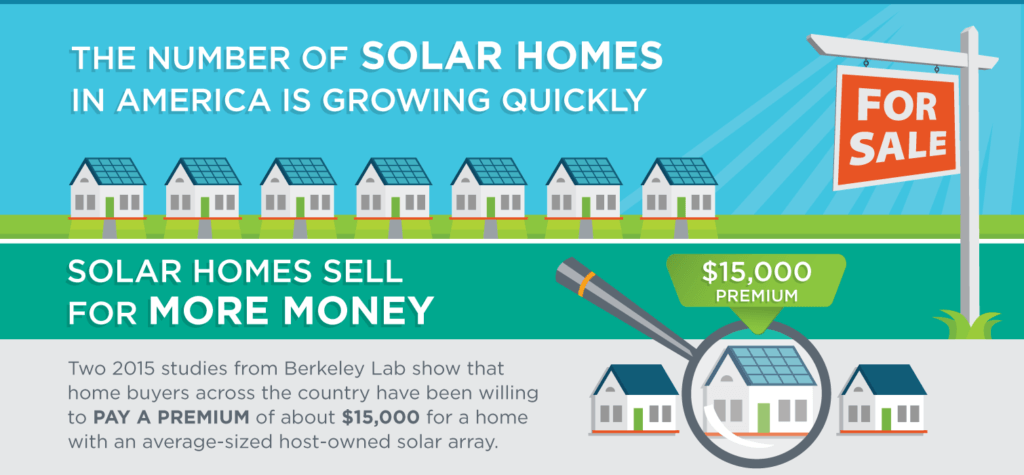 AND the studies suggested that weatherized, energy efficient homes sold faster than those that consume more energy.
The studies, completed by the Department of Energy's Lawrence Berkeley National Lab in collaboration with seven appraisers from six different states across the U.S., compared recent sales of comparable homes using the industry standard paired-sales valuation technique.
The appraised premiums found that homebuyers were willing to pay extra for a home with an average sized (3.6 kW) solar array.*
Premiums were affected by the size of the solar array, the available incentives and installed prices at the time of sale, and local electricity rates.
This is great news for Vermonters who are considering solar and wondering how it will affect them if and when they decide to sell.
Curious about how your home stacks up to other homes in Vermont? Get an Energy Audit and get your Vermont Home Energy Score today!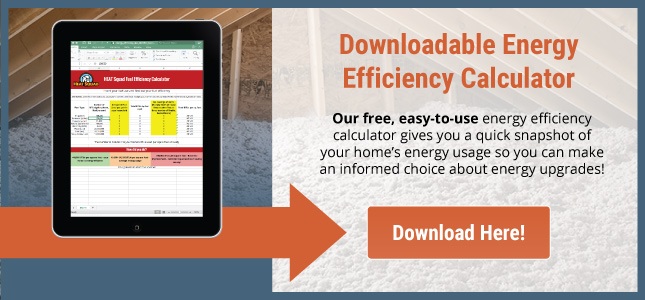 The Solar Investment
A typical 5 kilowatt solar array now costs around $20,000- the cheapest it has ever been. Still, $20,000 is by no means pocket change.
So a solar array means coughing up twenty grand? – No!
Let's factor in that in Vermont, we are tied for the nation's 7th highest electricity prices at $.18/kwh. Yearly energy savings ALONE on a 5 kW solar system in Vermont are estimated to be $1,053. So let's subtract those savings from the $20,000, bringing us to $18,947 for the first year. Ok, a little bit better.
The Federal government offers an incredible income tax credit of 30% of system costs, saving you $6,000 on the initial investment. This incentive brings the first year cost down to $12,947- 35% less than the system cost.
 NeighborWorks of Western Vermont offers affordable energy loans for solar installation, removing that $12,947 barrier and allowing you to pay off the array over 5-10 years.
[button link="https://www.heatsquad.org/energy-loan/" size="large" target="_self" icon="" color="orange" lightbox="false"]Apply for an Energy Loan today![/button]
This means that after 11 years, the system will have paid for itself in electricity savings, and after 25, you'll have made a total net profit of $27,014.
Seems pretty logical, right?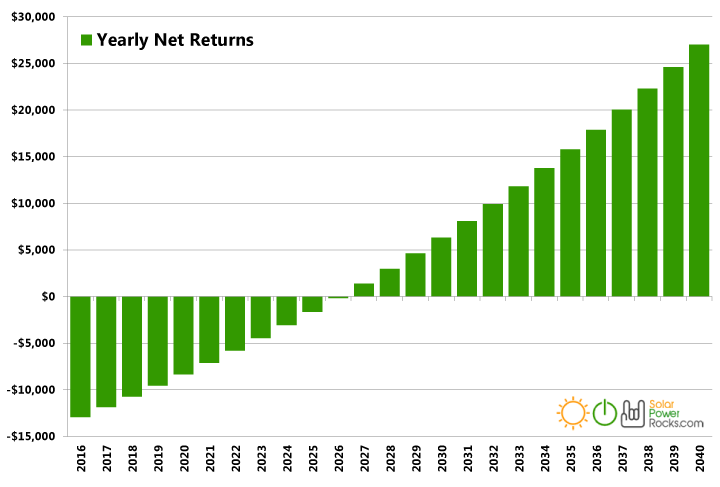 Now let's return to that increase in property value: you've installed panels and now your house is appraised higher. Let's say you're not selling- will this impact your property taxes? – Glad you asked.
Thanks to Vermont's property tax exemption for solar, none of the increase in home valuation is subject to taxation. Got to love our Green Mountain State!
And, as if you needed more coaxing, there are a couple more incentives:
Net Metering: get credited for the amount of energy you generate! The amount you receive is based on the value of the energy that your utility charges customers, plus an additional incentive for every kwh generated of 5.3 cents for installations less than 15 kw.
Renewable Energy Systems Sales Tax Exemption: so that $20,000 price tag really means $20,000 (there's no tax added!).
Interested in solar and weatherization upgrades for your home?
[button link="https://www.heatsquad.org/get-started-with-heat-squad/" size="large" target="_self" icon="" color="orange" lightbox="false"]Start by getting an energy audit today![/button]
Our energy auditors will provide you with a complete energy picture of your house including the potential for installing solar on your property. They'll also cover weatherization investments that could result in substantial energy savings even before the array is installed, reducing the array size to cover your household energy needs.
Our auditors can also connect you to local and trustworthy solar installers and, when you LoanWorks to finance the installation, we stay on as project managers to make sure the work is done timely and correctly.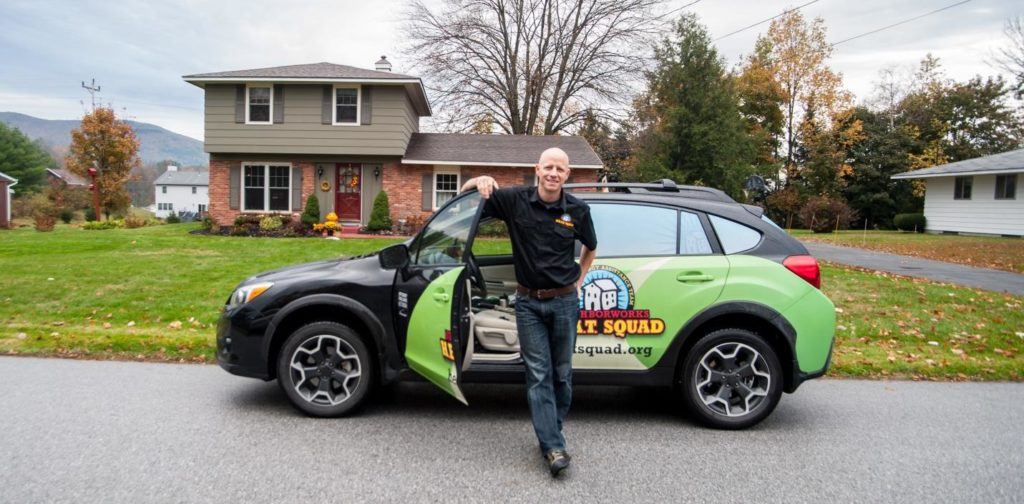 Already had an energy audit?
Fill out our online pre-qualification application today for our statewide energy loan and receive approval in as little as two business days.
*Premiums for individual homes are market dependent.