At HEAT Squad, we are focused on helping homeowners live comfortably and affordably in their homes. After completing a Home Energy Audit to identify the energy improvements that will deliver the greatest savings of home energy costs, we can help homeowners find the right contractor to make improvements and help with obtaining rebates. HEAT Squad partners with independent trustworthy contractors across Vermont.
The Patterson family of Rutland, Vermont was looking for a more environmentally responsible way to heat their home. Using their old oil furnace along with high oil prices is not sustainable long-term. They were looking for alternatives. Having seen advertisements from NeighborWorks HEAT Squad helped them make the decision to fill out the online request form. One result of the energy audit was how HEAT Squad can help by coordinating the work on their home: weatherizing their basement and the installation of heat pumps.
 "We were connected with [Rick, Heat Squad Energy Auditor] very quickly. I think just having somebody on the front line like this, who came back to help us very quickly made it super easy.
Rick drew up several different contracts depending on what we wanted because we weren't sure exactly what we wanted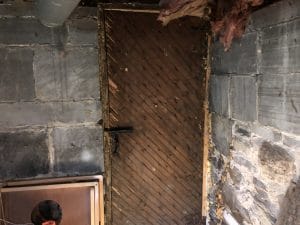 to do. But everything was handled for us, the contractors were excellent [Ellis Construction and Excel Plumbing and Heating]. We worked with both of them, they were incredibly professional. They worked with us to come out in times that were good for us to do the work. They did great work and followed up with us. The whole process was just super easy facilitated through one person. Rick from HEAT Squad handled everything from the payments to the contracts, to the loan and the different options we had for that. The rebate was sent directly to us and he handled all that paperwork and that was super convenient.
Having the basement insulated has made a huge impact this winter. It has kept a lot of our belongings down there dry, much drier than it has been in the past, and just overall reduced a lot of the draftiness through the house. I didn't realize how important just insulating the basement could be, keeping your home warmer in the winter.
The heat pumps this winter have been awesome. It's nice to be able to adjust them in every room and have a much more even heat distribution than we did with either the oil furnace or the pellet stove to supplement heating in a couple of rooms. Heat pumps are very consistent within the bedrooms and having a six-year-old it's been nice to have his room evenly heated.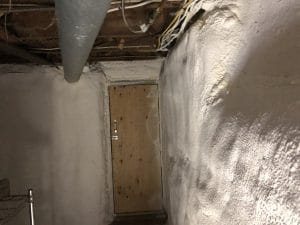 We absolutely recommend HEAT Squad to other people. It was easy from the beginning just to reach out on the internet, have somebody connect with us, having the auditor come to the house, and talk to us about different options. We didn't know exactly what we wanted, but it was nice to have different things presented to us.
I would absolutely with no regrets do this again and would recommend going through Neighborworks HEAT Squad for anybody that was even considering this process because they will give you options. Even if you choose not to move forward with it, at least you know what improvements could make your home more efficient."
Are you interested in learning how you can make energy and safety improvements to your home? Contact HEAT Squad at www.heatsquad.org!