Why did Vermont propose the
Vermont Home Energy Profile?
A History of Energy Scores
For some time now, governments and organizations have recognized the value of assigning a score to homes based on their energy efficiency. It offers an easy way for home buyers and sellers to understand the efficiency of one home relative to another. People familiar with energy efficiency scores will have heard of the HERS rating or Home Energy Rating System. It is a nationally recognized system that was launched in 1987 by The Department of Energy.
In the HERS system the lower a home scores, the more energy efficient it is. A typical resale home is assigned a score of 130, while a newly constructed home has an average score of 100. For example, then, a home with a score of 70 is 30% more energy efficient than a typical new home. That means you as a home buyer will be consuming 30% less energy and will be paying 30% less on fuel or electrical costs. Depending on fuel costs in your area, that amounts to hundreds or thousands of dollars saved each year.
The Home Energy Score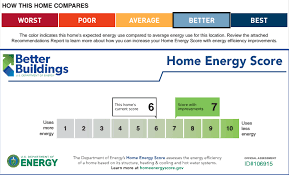 The HERS score was a great first start in assigning value to constructing an energy efficient, cost saving home, but it has its limitations.  A HERS rating is only available to individuals constructing new homes, leaving out the majority of homeowners. In response to this unserved need and the growth of the Home Performance with ENERGY STAR Program, which incentivizes weatherization upgrades, the Department of Energy developed the Home Energy Score.
The DOE Home Energy Score (HES) is available to all homeowners and is a much simpler scoring system which, unlike the HERS rating, assigns a higher score to homes with a greater level of energy efficiency. A score of 10 under the Home Energy Score system represents a home of optimal efficiency, whereas a score of 1 would be the least efficient of homes- in other words, a home in need of extensive improvements.
The Launch of the Vermont Home Energy Profile
Vermont has become among the first states, including Connecticut and Colorado, to offer the Home Energy Score statewide to homeowners! In 2013, with the passage of Act 89, Vermont's Public Service Department was mandated to convene a working group tasked with developing a means by which building owners could better communicate the energy efficiency of his or her property. After many meetings, much debate, and the solicitation of comments from Vermont homeowners, The Vermont Energy Labeling Working Group unveiled The DOE Vermont Home Energy Profile.
The Energy Profile includes the nationwide Home Energy Score, but also provides two important additional pieces of information for prospective home buyers: the home's expected yearly energy costs, as well as yearly expected energy use in mmbtus. In this way, buyers will have an easy time comparing energy usage and the efficiency of homes in a given location.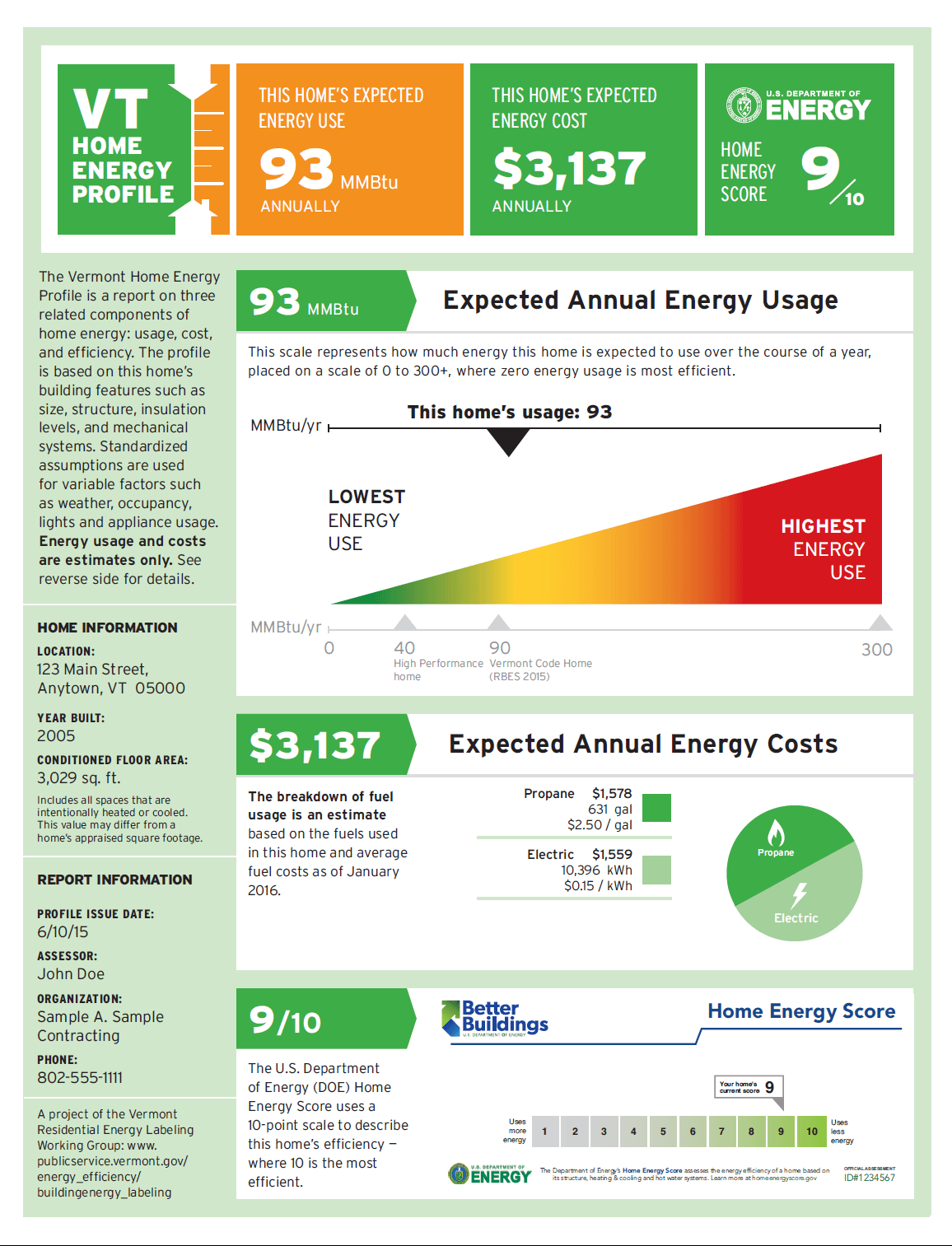 Why Scoring Your Home Matters
According to the National Association of Homebuyers (NAHB), "as more Millennials enter the housing market, they are sharing what features are most likely to affect their home buying decisions. An NAHB survey revealed that Energy Star certifications are a priority for these home buyers. In fact, 84 percent of this group is willing to pay 2-3 percent more for an energy-efficient home as long as they can see a return on their power bills." Furthermore, a recent study by IMT and the District of Columbia's Department of Energy and Environment showed that high performance homes fetched a premium of 3.46 over the price of a typical home.
A  Vermont Home Energy Profile will be readily available and visible to potential buyers through the multiple listing services that realtors use to share information about properties. The MLS service used in Vermont and neighboring states is New England Real Estate Network or NEREN. This comprehensive source for information about homes is what feeds information to popular websites such as Zillow and Realtor.com. In this way, the Vermont Home Energy Profile will serve as another important way to distinguish the attractiveness of one home over another, particularly for green or eco realtors.
How to Get Your Home Assessed with A Vermont Home Energy Profile Score
For a fee of just $150, HEAT Squad will assess a home and provide a Vermont Home Energy Profile score. HEAT Squad energy auditors will also assign Home Performance with ENERGY STAR customers a Vermont Home Energy Profile score at the second blower door test, or test out, at no additional charge.  A test out is performed upon completion of recommended energy improvements, to ensure improvements were appropriately and adequately installed, and to provide proof of reduced air leakage to Efficiency Vermont so that the homeowner can receive incentive monies provided through the Home Performance with ENERGY STAR program.
Homeowners can get on the path to making these needed energy improvements through the Home Performance with ENERGY STAR program by signing up for an energy audit. A score with the Vermont Home Energy Profile will, after all, be most valuable when you have an efficient home to brag about! HEAT Squad offers energy audits at the reduced cost of $150.
Contact Lori at 802-797-8609 or visit heatsquad.org