At your HEAT Squad Energy Audit, you will learn helpful information like where you are losing heat, if your insulation is adequate, where you are wasting electricity, and if there are health and safety concerns. We are focused on helping homeowners live comfortably and affordably in their homes and help you identify the energy improvements that will deliver the greatest savings of home energy costs. We also help homeowners find the right contractor to make improvements and help with obtaining rebates.
The Petelle's purchased a new home in the fall of 2019 in Newport, VT and were interested in finding out if there were ways to make improvements, especially with winter on its way. After meeting Ann, HEAT Squad Northeast Kingdom's Outreach Coordinator, at a tabling event, Petelle called to schedule an energy audit. With a hectic schedule working for the State of Vermont Health Department as an Emergency Preparedness Specialist, the audit was set for January of 2020.
With the COVID-19 pandemic front and center of many Vermonter's minds, Petelle spoke about her work in Vermont as well as her experience with HEAT Squad.
"I work for the State of Vermont Health Department, and I'm in the office of local health out of Saint Jay and Newport. My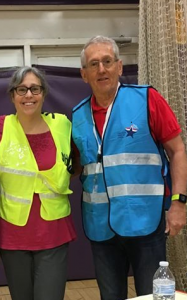 job title is Emergency Preparedness Specialist so I have been pretty busy lately! I run a volunteer group called the Medical Reserve Corp made up of medical and non-medical volunteers, and my energy has been focused on recruiting new volunteers as well as trying to find experiences that our local volunteers can currently do without too much risk.
I met Ann [HEAT Squad Northeast Kingdom Outreach Coordinator] at a tabling event at an emergency preparedness fair sponsored by the Northeast Kingdom Human Services. I spoke with Ann and she got me interested in what HEAT Squad does so I went over and signed up as I just bought a house, and was interested in finding out if there were ways that I could make improvements, especially with winter coming. With my schedule and the fact that I hadn't spent a winter in my home yet, we scheduled the audit for later in January. That actually worked in my benefit as I was able to have at least a couple of months' worth of oil bills to use as a base-line for my home.
After the energy audit with Sally [HEAT Squad Energy Auditor and Energy Advisor], she made a recommendation of a contractor in my area that would work on my house and I was so surprised at how fast that it all played out. They were very good and everything just fell together.
My favorite part of the energy audit was meeting Sally. She explained things at my level, as I don't know a whole lot about construction. Someone else could have talked about things and it could have been way over my head but she made it very relatable. Sally gave me an outline of how to do things and easy projects that I could tackle on my own. She gave me some really quick and easy pointers of things I could take care of and I went and did them right away put in plugs in the outlets and there were a couple of places that my window casings just needed some sealing.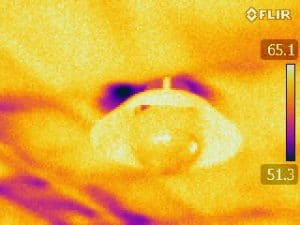 I was also really impressed with how in-depth the energy audit report was. It was easy to follow, but what I also liked about it was, it was very well laid out with the estimated costs and what the projected savings would be. That is really helpful information so you know what the best bang is for your buck and where you should focus your energies. The VLITE grant was so quick I was really impressed with how fast that was and I was thankful for Sally's help processing the paperwork. The VLITE check came really fast, and then the check from Efficiency Vermont also came faster than I expected.
The experience as a whole was really just amazing. I can't believe how smooth everything went and how quickly Sally was able to come once we got things rolling."
Are you interested in learning how you can make energy and safety improvements to your home? Contact HEAT Squad at www.heatsquad.org!