Vermont Air Quality:
Rutland county has some of the worst air quality in Vermont, due to geography as well as the prevalence of old, non-EPA-certified wood stoves in the region. Bennington's air quality follows close behind. Fine particles released from wood stoves pollute both indoor and outdoor air; this causes a range of health problems both in older adults and children.
In response, Green Mountain Power and the Vermont Clean Energy Development Fund awarded NeighborWorks of Western Vermont HEAT Squad $309,330 to install new EPA certified pellet or wood stoves along with energy audits and efficiency upgrades. The program, which will expire on December 31st, 2020, will offer rebates to replace or install new stoves and for completing energy efficiency measures such as air sealing and insulation.
HEAT Squad's Stove Change-Out Program:
HEAT Squad's Stove Change-Out Program offers homeowners up to $3,800 towards the removal of their old stoves and the installment of a new, EPA certified one. Melanie Paskevich, HEAT Squad Program Manager, has emphasized that the program isn't only for homeowners with wood stoves and those who have not gotten the chance to burn pellets or wood are eligible. Rebates are also based on household size and income, giving Vermonters with low income the most assistance.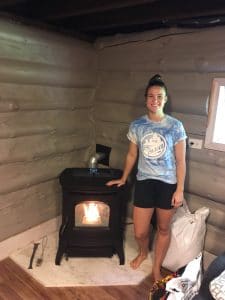 "A new efficient, clean-burning pellet or wood stove reduces air pollution, both inside your home and out," Paskevich said, "our program helps homeowners – especially those who need the most assistance – afford this health and safety upgrade, positively impacting their families as well as reducing the prevalence of respiratory issues."
For those applying for the stove change-out program, income verification is required and rebates are first-come, first-serve. If you are interested, call (802) 438-2303 or, go to www.heatquad.org.