How our energy audit from HEAT Squad revealed a three square foot hole, and showed us that finishing the project will pay for itself 8 times over while saving us money and making our home more comfortable.
"This is the house we have to buy."
It was June, 2006 and my husband, Matt and I found ourselves on a charming, tree-lined street in Essex Junction, Vermont. And, as they say in the love songs, I just knew. This was going to be home.
So, even though this enticing four bedroom home had recently passed the century mark, we decided to buy it. Sure, it was built around 1900, but what's not to love about porches, woodwork, and a walk-up attic? It was the start of summer, and we weren't thinking too hard about fuel bills.
Then, after our inspection, we learned that an energy audit had already been performed in 2002, and the previous owner had added blown-in insulation and new windows. Score!
"Looks like we got the charm of an old house and the efficiency of a new one!" I remember thinking. Win-win, right?
Flash-forward exactly 10 years, and my near-constant worship of layered wool cardigans and L.L. Bean slippers for indoor wear from October to May has led us to believe that perhaps the decade-old insulation upgrades weren't quite getting the job done.
Getting it Done
Coupled with the knowledge that we would also be needing a new furnace any day, we swallowed our fear that a new energy audit might reveal that we should just throw in the towel and move south.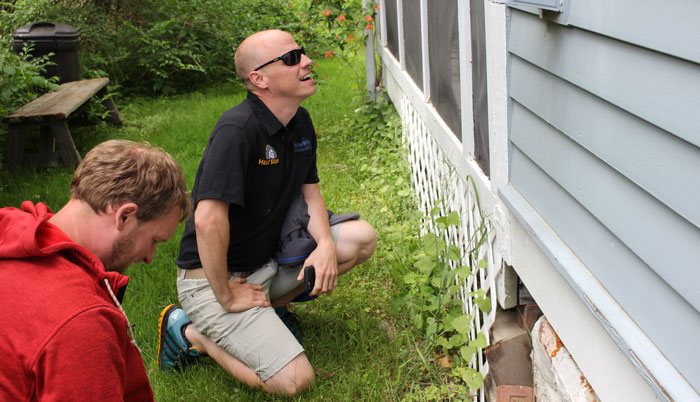 We called HEAT Squad to begin the process.
After a five-minute phone call and a reasonable $150, we had a day scheduled for a HEAT Squad auditor, Corey Trimmer, to come to our home and perform an energy audit.
About a week before the audit, I received an email from Lori at HEAT Squad confirming the date and time of our appointment, as well as a list of requirements. The list was pretty simple:
Homeowners needs to be present during the audit (it lasts for about 4 hours)
An estimate of the yearly cost for heat as well as electricity
No roaring wood fires
As nervous as my husband and I were about what the audit would reveal, even we could handle these very reasonable expectations.
Audit Day!
Of course, our scheduled audit day happened to coincide with not just the last day of school, but also with an early release. Surprise!
So, when Corey arrived, he was greeted by not only two homeowners, but our two children, a playmate that had wandered home with us, and the dog! Corey was unfazed. He sifted through the piles of backpacks, let the dog give him a sniff, and greeted us warmly. Then he headed to the attic.
Upstairs and Downstairs
From the top down, Corey gave our house a thorough inspection. He pointed out places where he suspected cold air was infiltrating.
Upstairs, even in the "new" portion of our home, where there was a thick, visible layer of insulation in some places, Corey noted that insulating an attic "most of the way" is not bad, but it still allows for that cold winter air to seep in.
Heading downstairs, a lot of time was spent in the basement; an area of the home we had already done some work on due to water problems.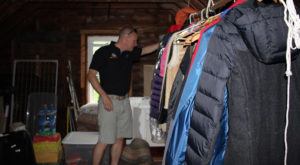 Right away, Corey diagnosed that our leaky basement was basically cooling our home all winter long. He explained that our home's "chimney effect" was a major cause of our heat loss. Basically, in our tall, close to three-story house, cold air gets pulled in through the uninsulated basement, grabs our warm heated air, and flows right on up and out the unsealed attic. Not ideal.
Blower Door Test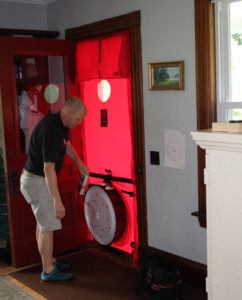 After spending some time on the exterior of our home, Corey set up the blower door test. The kids reappeared as he fit the fan into our front door and they asked a few (or fifty) questions that Corey patiently answered.
After closing and locking all of our windows and exterior doors, the fan was turned on. With the fan blowing the interior air out, we were able to clearly see and feel where the most significant cracks and leaks are located, and where that outside air is flowing freely into our home. Informative!
The test lasted for about 10 minutes. We again took a tour of the main part of the house and we were all able to clearly identify areas of leakage. Not surprisingly, standing at the top of the basement stairs was reminiscent of a wind tunnel. The basement clearly needed help.
The fan was turned off, and the fun and games were over. Corey set up shop at the dining room table and got to work on our audit report. I gave him a year's worth of natural gas bills and a monthly average for our electricity bill.
The Audit Report
After about an hour, my husband, Matt and I were able to sit down with him and go over his very detailed audit report.
It turns out our home received an energy score of 154. That's…. good? Nope. The energy score is rated on a scale from 0-200 and lower is actually better.
However, Corey's report noted that while the average Vermont home score is 127, our 144 wasn't the worst he had seen. He told us that with the audit's recommended improvements, we could reach a 91.
The result? About $850 a year in fuel savings. Oh, and a house that feels warm in January! Is that even possible? Corey assured me that it was.
The blower door test revealed that, if you added up all of the areas in our home where cold air seeps in, it would equal three square feet.
We essentially have a three foot by one foot hole in our house to the outdoors. That's like having a window open all the time. In winter. Cue the slippers.
Our audit also revealed that because of all of this "fresh air," we have to heat our home about 24 times EVERY DAY. So, even if we installed the planned high efficiency furnace, come winter we would be efficiently heating the outdoors 24 times a day. Not a good financial plan.
What Next?
So, we have a leaky house and a dying furnace – what to do?
Fortunately, the audit doesn't just end with dire info about how much money is flying out of your windows every time the temperature drops.
To sum it up, Corey's report outlined for us:
The improvements that will make the most positive impact on our home
An estimate of what the improvements will cost
The potential cost savings of completing the projects
Plus the amount of money we could get back from Efficiency Vermont in incentives
The HEAT Squad plan given to us is comprehensive, it addresses all of the issues for our house, and offers us ways to fix them.
We now have a roadmap that we can refer to when deciding what improvements we want to make, as well as which ones will make the biggest impact on both cost and comfort.
There are some big ones (new furnace, insulation and air sealing in the basement) but there are some small DIY ones too. More insulation in our attic and crawlspace, as well as some sealing of air ducts, are tasks that can be completed with a weekend and a trip to Lowe's.
Most importantly, we can see how making several improvements together will make a huge impact on our cost savings as well as our comfort during the cold months.
Cost and Financing
As it stands now, we are paying about $1758  per year for natural gas, $831 per year for electricity, and it's safe to say that our home is not cozy during the winter months. With the heat on, our living room averages about 66 degrees Fahrenheit throughout the winter, and the kitchen thermometer usually reads a few degrees colder than that.
Now, we've got a plan, we have an estimate of costs, and we know the savings as well as the cash incentives. It's time for us to figure out what we can afford and if it makes sense for us to borrow some money using the low-interest energy loan from NeighborWorks of Western Vermont to complete the rest.
Stay Tuned
We have some work to do on our own, and a call scheduled with HEAT Squad to talk about possible financing for this project. We will also get their expert recommendations on contractors to do some of the work and to install a new furnace.
Stay tuned for an update! We will be back to give you information on the work we do, how we do it, and the final results.
Are you interested in getting your own energy audit? Call HEAT Squad, 802-438-2303  they are super friendly and helpful. Or fill out the contact form here and they will be in touch with you.