Efficient Cooling (and Heating) with Heat Pumps
While our stubborn refusal to buckle to temperature extremes in Vermont is a cherished bragging right, it's worth pointing out the fact: there is nothing inherently evil in air conditioning.
Okay, maybe an argument could be made about window units. BUT there's a new air conditioning  (and heating) system on the block: heat pumps, and they're efficient, comfortable, and… affordable.
$51 a Month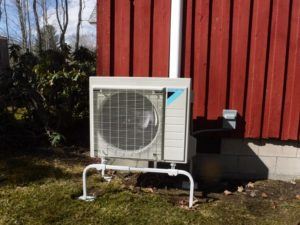 You can read up on why heat pumps are so exciting for Vermonters here – basically they heat and cool your home super efficiently (aka cheaply) and there are juicy rebates ($600-800) to incentivize you to install them.
Here's another reason to be excited: you could buy and have a heat pump system installed in your home starting at $51 a MONTH using NeighborWorks' Energy Loan.
Read more about our Energy Loan Process
Installing Heat Pumps with our Energy Loan
$51 a month sounds pretty darn affordable right? Like a no-brainer almost…
Our unsecured Energy Loan is simple and affordable with interest rates of 4.99%. General repayment terms are five to fifteen years, and you can repay your loan in-full at any time without penalty.
So what are the assumptions we made behind the $51/month?
$51 a Month to Buy and Install
Monthly Household Income: $3,000
Interest Rate: 4.99%
Term: 180 months
Loan Amount: $4,750

$4,500 for installation and materials for a single head unit
$250 for an escrow management fee

No down payment
This cost per month could increase or decrease depending on total project size.
SO, for $51 a month you could be escaping the muggy afternoons and evenings while enjoying the comfortable and cool interior of your home. When the temperature cools outside, you'll be able to use the same system to heat your home up while saving money on your energy bills.
Start by signing up for a HEAT Squad Energy Audit. Your Energy Auditor will help connect you to contractors to install the heat pump system and to our Energy Loan.
[vc_btn link="url:heatsquad.org/get-started-with-heat-squad" title="Schedule your energy audit today!" color="warning" align="center"]
More information:
7 Things You Probably Didn't Know About Heat Pumps
17 Available Cash Incentives for Energy Efficiency Upgrades in Vermont
"Doing it just for the comfort alone was worth the money."