Cold Climate Heat Pumps: The Right Choice for Your Home?
If you're interested in lowering your heating bills and living more comfortably year-round, you may have considered changing your heating source. What about cold climate heat pumps? Is one right for your home?
When you live in a cold climate zone like Vermont, staying comfortable during winter without spending a fortune is a high priority. If you have an older heating system, you may have to spend hundreds every month to keep your house warm.
Anyone who lives in an area that regularly gets near or below zero degrees should consider investing in a cold climate heat pump. Once considered an expensive heating option that was ineffective in freezing climates, heat pumps have come a long way.
Not only are cold climate heat pumps very efficient due to the way they operate, you can have them installed for a reasonable price and they come with a slough of other benefits.
How Efficient Are Cold Climate Heat Pumps?
For the average American, heating and cooling makes up about 40% of their monthly energy bill. The only thing close to this is the money you spend heating your water (28%). That means that by cutting your heating and cooling costs in half, you're cutting your total energy bill down by 20%.
This could mean savings of up to $60 monthly — a substantial number for anyone looking to save money.
Depending on your current setup, installing a cold climate heat pump (also referred to as "Ductless mini-splits") could be an excellent way to save on your heating bill. If you're using oil or gas to heat your home, you could see as much as 33-50% savings by installing a cold climate heat pump.
So why are cold climate heat pumps so effective? The answer is in the manner in which they provide heat to your home. The first and biggest selling point is the fact that instead of generating hot or cold air to pump into your home, heat pumps are actually transferring hot or cold air from outside to inside.
As crazy as it sounds, there's actually a good deal of heat in the outside air — even in the dead of winter!

What About Cold Climate Heat Pump Installation Costs?
According to HomeAdvisor, most homeowners spend between $3,951 and $6,706 to install a heat pump. Installation generally takes only about a day, as cold climate heat pumps don't require the installation of any duct work.
With incentives from Efficiency Vermont, you also may qualify for a rebate of up to $400 for installing a cold climate heat pump and upgrading your home's heating and cooling system.
Quiet Power, and Other Benefits of Cold Climate Heat Pumps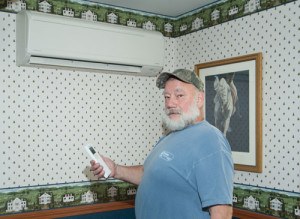 Aside from their efficiency, cold climate heat pumps have many other benefits. Perhaps the best feature is their ability to both heat and cool your house. In the same way that they're able to pull hot air out of the cold winter air, they can also transfer cold air from the hot air outside to act as an air conditioner.

This is a huge benefit since many heating methods — such as wood stoves or wall heaters — aren't able to function as an A/C in the summer, which means you have to buy a separate air conditioner and hook it up through a window or a wall.
The improved electric motors and variable speed blowers are technical advances that have reduced excess noise.
With a heat pump, you're able to seamlessly switch between the seasons.
Another key benefit of using a heat pump is its effect on air quality. While transferring hot air inside, heat pumps are also working to recycle the cold air from your house. This provides a built-in ventilation system. Since air is passing through it, it also has an air filter which means your air is being both ventilated and filtered. In addition to this, cold climate heat pumps dehumidify more effectively than standard central A/C systems.
Combine all of these factors and you have a recipe for better quality air that your allergies will thank you for.
Is a Cold Climate Heat Pump Right for You?
So, is a cold climate heat pump the right solution for your Vermont home? There are many factors that determine this, including your floorplan, current heating method, and your home's energy efficiency.
If your home has an open floor plan, heat pumps are especially effective. Small homes and businesses with open floor plans can typically heat with one or two heat pump units.
Consider your current heating setup; if you have a wood or pellet stove, you may not see as much in savings as someone who's running a gas or oil heating system. However, a heat pump requires no labor at all, and it goes on and off at the touch of a button.
If moving firewood or loading up a pellet stove is becoming more difficult, or you don't have the time for it, a heat pump is a great addition.
The convenience of a heat pump allows you to have heat on the days when wood or pellets are not in the cards. Sometimes, running out to that snow-covered woodpile when it's below zero is no fun at all!
But, if your home isn't sealed properly, and is losing heat due to poor insulation or inadequate air sealing, then you won't reap all of the benefits of a heat pump or see a jump in savings.
So, if you haven't had an energy audit done in the last ten years, having one performed by a qualified auditor is the first step towards getting your house to heat and cool more efficiently. Once your home is sealed properly, then looking into a cold climate heat pump as a reliable heat source is a great idea!


Heat pumps are a heating option with the increased benefit of improved air quality, making your your home a healthier place, while saving money on heating bills.

Getting Started
If you're interested in learning more about heat pumps, give us a call at 802-438-2303! The HEAT Squad can help you determine if a heat pump is right for your home.
We can also schedule a low-cost energy audit so you can make sure your home is sealed up tight, and if a heat pump is a good choice, we can set you up with a trusted contractor to do the installation.

We've even partnered with local experts
Efficiency Vermont
and
Green Mountain Power
, so if you qualify for a rebate, we can get that for you, and if you're interested in leasing a heat pump, we can discuss that option, as well.