"It's a no brainer if you want to cut your fuel bills." – HEAT Squad customers Adam and Dalite
Adam and Dalite were looking for way save on heating bills and keep their home warmer in winter, especially for their young son, Ari. They installed a pellet stove but it didn't make the difference they wanted it to.
"There was not any heat being retained the house," said Adam. Adam heard about the HEAT Squad program offered through NeighborWorks of Western Vermont and he called.
After they had their energy audit done, Adam and Dalite made improvements to their home's insulation, adding spray foam and rigid board in the basement, blown insulation in the attic and walls, and air sealing throughout the house. They were able to cut their fuel bills almost in half and see an annual savings of over $1,200.
"We went from filling our oil tank three or four times a year to one or two times a year, and reduced pellets by a ton.  It's a long-term investment that's returning in the short term."
Invest Now for Immediate and Long Term Results
Since oil prices are so low this year, we want to let people know that they should take advantage of their savings by investing in energy efficiency (not as fun as date night but you may enjoy a night in when your home is warm and toasty).
When you work with the HEAT Squad to make improvements and tighten up your home you will identify the most energy efficient upgrades, saving fuel costs as well as making a more comfortable environment for you and your family.
Where is Your Energy Going?
You may be all geared up to head out to your local home improvement store to buy some insulation and spray foam, but don't forget to find out where you are losing your energy first!
With the HEAT Squad, you can get an energy audit done for $150 for the average single family home. That's $150 to determine exactly where you are losing energy so that you can focus your improvements and save in the long run. You can avoid spending money on improvements that aren't likely to save you money on your heating bills by getting the right information, preventing you from making lesser needed improvements that might not reflect in your heating bills!
A professional energy audit will determine where you are losing your heat so that you can focus your home improvement on where it counts the most. An auditor should perform three basic tests on your home: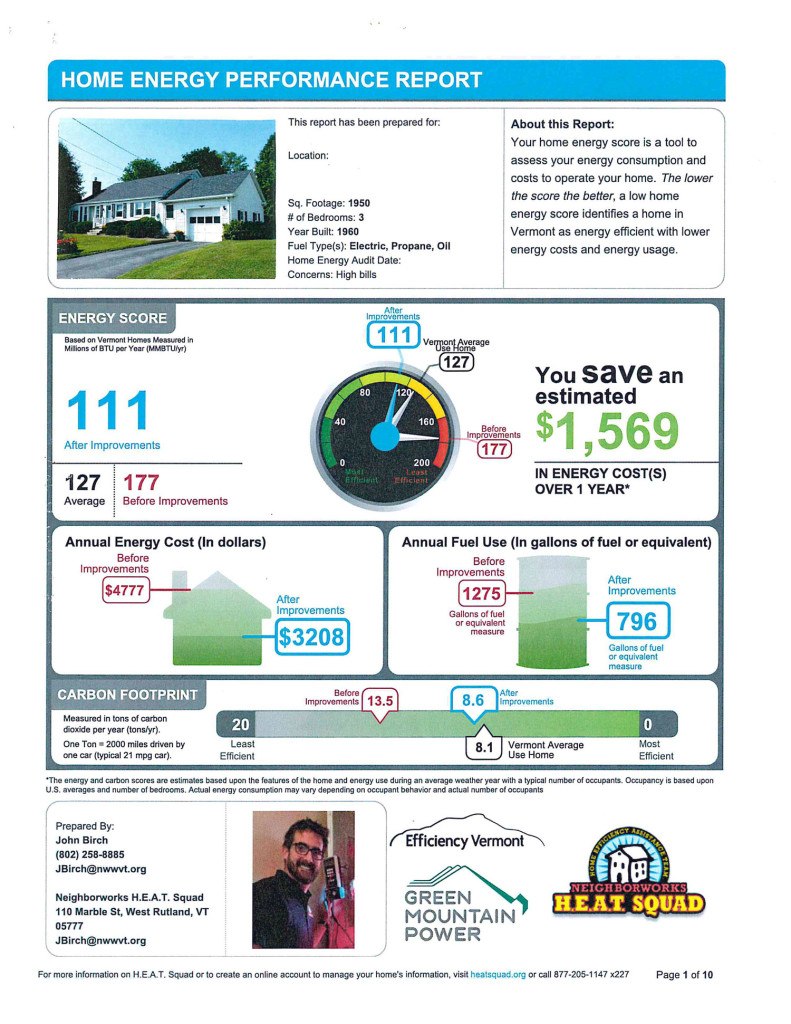 Blower Door Test
This test gently pulls air into your home – simulating what would happen if wind were blowing on your home from all sides at once. This test identifies and quantifies the air leakage in your home. You will know exactly where the air (and in winter, the heat) is escaping. This information is invaluable when you start to make your home improvements!
Infrared Camera
Ever wonder what is going on inside your walls? This test actually allows an auditor to "see" behind walls! This test can identify fallen or missing insulation, or determine the cause and scope of the cold spots in your house.
CAZ (Combustion Appliance Zone) Test
A funny name but a simple and worthy test! An auditor will measure the efficiency of your heating appliances (like your furnace or boiler) to determine how efficiently it is performing – these include a Draft Test, Stack Temperature Test and a Fuel Efficiency test.
Common Problems – How to Fix Them
The most common fixes that are recommended after an energy audit have to do with insulating your home properly, and making sure your appliances are operating efficiently.
After an energy audit you may receive a recommendation for professional services, however, many of the improvements can be done by the homeowner or perhaps a combination of the two.
Air Sealing
Once you know where the air is leaking, fill in the holes and keep the warm air inside!  Materials that are readily available at home improvement centers and are commonly used are foam insulation or caulk, applied to the top of the foundation wall inside a basement, attic areas, and windows and doors. Sealing up the leaks can make an instant difference, making your home feel less drafty and more insulated.
Upgraded insulation
Materials commonly used include spray foam, cellulose, and rigid board. These types of insulation can be applied to attics, basements, and walls.
Replacement of Old Furnace
While this requires an initial investment, most homeowners see savings right away. If your audit reveals that your old furnace or boiler is inefficient, you are paying for fuel that is being wasted every time you turn the heat on.
Upgrading Hot Water Systems
Hot water systems are not the first thing people think of when it comes to saving energy and staying warm. Keeping hot water at the ready in your home is a big energy draw and with new efficient technology, such as a heat pump hot water heater, you can save a lot on your energy bills – allowing you to keep that money or spend it on other improvements down the line.
Resources so you can get it Done!
Feeling pumped to get your home ready for the winter? Maybe overwhelmed? Either way, give us a call at 802-438-2303 or simply click on the Contact button at the top of this page. We have lots of resources to help you make your home energy efficient and really comfortable this winter.
We can get you started with a low cost audit or connect you with qualified contractors in your area that will work with you to make the necessary upgrades and get you started saving money on heating costs!