When it comes to weatherization and buttoning up, knowing where to start is often the biggest hurdle. How do I know if my current insulation is working? Is the moisture in my basement an issue? How do I get a contractor to call me back?
HEAT Squad can help you sort through all these questions and get you on the right path towards comfort, savings, safety, and sustainability. HEAT Squad provides energy audits at a low cost to homeowners, where our BPI-certified energy auditor, will assess your home and let you know how to remedy any problem areas. Our customers save annually on average almost $1,000 on their energy bills.
NeighborWorks of Western Vermont HEAT Squad is also now in the Northeast Kingdom and Sally Ayers is the newest addition to the HEAT Squad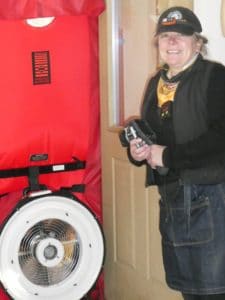 team, joining as an energy auditor for the NEK.
Curious what an energy audit involves?
Our energy auditors will begin with a walk-through of the home to get an understanding of how you live in your home, which efficiency projects you have already completed, what types of projects are currently on your radar, and how HEAT Squad can best help you. They will perform a comprehensive energy audit, including a full visual inspection, a health and safety check of your home, infrared thermal imaging (temperature dependent), and a blower door test.
The blower door test puts your home under negative pressure, allowing your energy auditor to track and quantify the amount of air escaping thru cracks and gaps throughout your home. After your auditor has completed the data collection, she will enter it into her modeling and diagnostic software, and write up your home energy audit report to then review with you what was found in your home and talk about prioritized recommendations, energy savings, and rebates available such as up to $2,000 from Efficiency Vermont.
They will also help to connect you with qualified, local contractors to complete any work. They are there to help every step of the way in making your home cozy and efficient, giving your home the energy hug it needs this winter.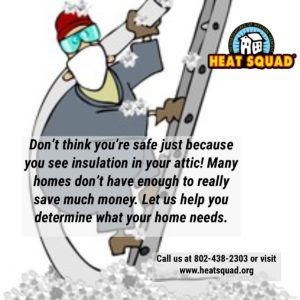 Winter is the perfect time for an energy audit!
Energy audits are performed year round, so there is no reason to wait – contact HEAT Squad today! Our energy auditors are also available for community or business presentations for those interested in learning more about energy audits and how the HEAT Squad can help you on the right path towards comfort, savings, and safety.
Visit www.heatsquad.org or call (802) 438-2303 to schedule your audit appointment today.