NeighborWorks of Western Vermont's HEAT Squad is offering discounted energy audits ($100!) for a limited time this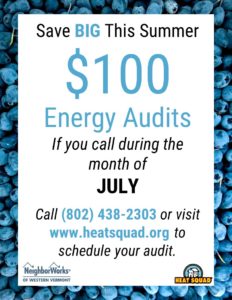 summer. HEAT Squad aims to provide low-cost energy audits and information about home efficiency and weatherization improvements. Our BPI-certified energy auditors will assess your home and tell you exactly what problems you may have and how to remedy them.
On average, homeowners save an average of 30% on their home heating and cooling costs after making energy efficiency improvements.
If you call during the month of JULY, you are eligible to receive your energy audit for only $100! Please note that the audit may take place after July, however you must call during the month of July to secure this discounted price.
Go to our homepage at www.heatsquad.org or call (802) 438-2303 for more information and to schedule your energy audit today.