According to the Environmental Protection Agency (EPA), indoor air is around three times more polluted than outdoor air. Fresh, clean indoor air is a top priority for healthy homes, especially for children under age ten and those over age sixty. Paint and finishes are some of the bigger causes for your indoor air being polluted as they can continue releasing toxins into the air years after application. Volatile Organic Compounds (VOCs) are the main source of these toxins. Recent environmental regulations and public demand have caused companies to start producing new Low-VOC, Natural, and even Zero-VOC paints. These paints are less harmful to environmental and human health and are terrific to use in your home. They are easy to use, often easier to clean up and come in hundreds of colors. Read on to learn about the benefits of eco-friendly paints for your home.
Benefits Of These Paints:
Fewer toxins are good for everyone; especially those with allergies and chemical sensitivity.

These paints help the environment as they reduce

 landfill, groundwater, and ozone contaminants.

Low-VOC products have good coverage and can cover flaws on previous coats of paints and are easy to use.

Most of these paints are water-based and can easily be cleaned with warm water and soap.

There are little or no odors during the application, depending on if it is Low-VOC or Zero-VOC, and no odor once completely dry.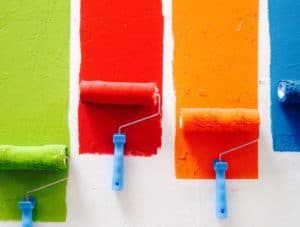 What To Look For:
Read the label of the paint. Healthy paints and coatings that have certifications such as "GreenGaurd" or Living Future Institute's "Declare" label. 

Watch out for the ADDITIVES. You may start with a toxin-free paint but to get the perfect shade of yellow, places that custom mix paint for you might put in additives that have the VOCs you are trying to avoid.

Milk paint and natural paint are the first choices for keeping your home healthy.
Some paints say "no odor" but still contain high levels of VOC.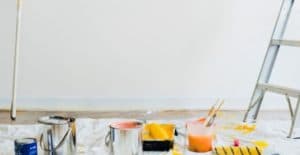 Tips For Painting Your Home:
Keep the room(s) well ventilated during painting, this helps with drying.
Never use old paint.
Do not use exterior paint indoors.
Do not paint over existing mildew.
Save a little paint for future touch-ups.
Use natural brushes and drop cloths.
If you're looking to freshen up some rooms in your home this spring, consider using eco-friendly paints. Not only will you be a little greener around your house, but you will also be improving your air quality and making better choices for you and your family. A fresh coat of paint can also improve your sense of place and home, making you feel happier, healthier and revitalized. 
Authors: Bailey Aines, part-time employee and Svea Howard, Communications and Outreach Coordinator