We've said it before, but we know it takes seven times to sink in, so here it is again: Efficiency VT has increased their rebates for low to moderate households to cover 50% of your project cost up to $4,000 or for other incomes up to $2,000! If you are considering cold climate heat pumps, rebates are at an all-time high, so again, act now!
"HEAT Squad has been helping Vermonters with their weatherization projects for over nine years and these are the best rebates EVER – now is the time to act. Even if you have done work and are thinking of doing more work, now is the time, don't wait, we can help" says Melanie Paskevich, Progam Director of NWWVT.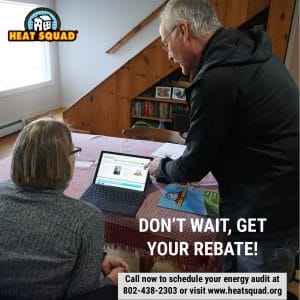 For a limited time, those living in the Northeast Kingdom can receive an additional $1,000 bonus rebate! HEAT Squad is here to help you coordinate your projects and get you those rebates!
Along with our Energy Loans, you can get help paying for projects that include: insulation, air sealing, heat pumps and efficient heating systems, renewables, health and safety measures, and other items that improve energy efficiency for your home!
Take advantage of this offer before it's too late! Call (802) 438-2303 or visit https://www.nwwvt.org/energy-loan/ for more information.