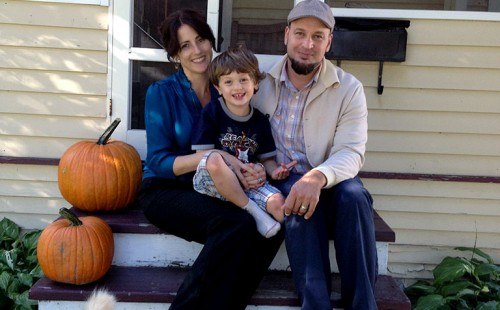 Adam Sancic – Proctor
Adam and Dalite were looking for way to cut their fuel bills and keep their home warmer in winter, especially for their young son, Ari. They installed a pellet stove but it didn't make the difference they wanted it to.
"There was not any heat being retained the house," said Adam. They were familiar with NeighborWorks' other programs, so when Adam heard about the HEAT Squad program he called. Deciding to move forward with energy improvements was easy. "It's a no-brainer if you want to cut your fuel bills, especially in these older houses."
"We went from filling our oil tank three or four times a year to one or two times a year, and reduced pellets by a ton.  It's a long-term investment that's returning in the short term."
Improvements
Spray foam and rigid board in basement
Blown insulation in attic and walls
Air sealing
Benefits
Cut fuel bills nearly in half
Support local contractors
Long term investment that returns in the short term
Energy Profile
Initial energy costs $3,317.19/yr
Projected energy savings 55%/yr
Annual savings $1,208.91
Costs and Incentives
Improvement cost $11,075
Incentives $2,500
Out of pocket (financed) $8,575
These numbers reflect actual expenses and incentives available at the time. Check efficiencyvermont.com for current incentives.